JENITO BLOG

NOT DEAD - September 6th, 2011
Contrary to what one might believe looking at the blog entries, I DID NOT DIE.
Now that you've been filled with a sigh of relief let me tell you what did happen. . . I was (get ready for it), JAPANED! Well, maybe not so much. Actually, I was. . . LIFED!
OK, forget it, this blog is getting worse by the second. A lot of stuff happened all at once, junk ensued, and Jenito ain't my job. So it kind of fell by the way side. I had some comments about the 8-Bit Fan Game and I really need to get around to making some adjustments on it. Frankly, though, it isn't top priority at the moment.
You see, I'm getting ready to change jobs, which will involve moving back to America. So my life is total chaos for, say, the next GOOD WHILE. And that job is going to involve a lot of work, some being video game related. I'll actually be coding things that might help me have a living. Wow. . . what a thought! Not exactly Bethesda Softworks, but a step up from just managing Jenito "on da' side."
Said job is going to have me working with Unity3D a lot, which looks to be an absolutely outstanding engine. I wish I had more time to be delving into the scripting, but at the moment packing and the like is taking most of my focus. Still, since Unity3D is free I'll be doing a lot of hobby work here on Jenito, mostly to hone my skills for some real work. This leads me to a couple conclusions:
1. All the projects I had slated here at Jenito are pretty much on hold for the time being, which kind of stinks considered I was gettin' pretty worked up with that RPG engine I was cookin' up
2. I'm probably going to start one single project here at Jenito.com, which will be 3D, playable in your browser, and will include a lot of simple technology testing
3. Makin' another fan game sounds like a great way to work on a side project like that
Don't want to drop any spoilers yet, but I'm kind of worked up about some possible fan games. If you are wondering, no, it will not be another 8-Bit Theater game. Not at this time, anywho. But it would be very cool nonetheless, so be checkin' back.

Ze' ArtIst! - July 15th, 2011
I have been working tenaciously (big word) on the new RPG game as of late. Behold! I bring thee pictures!
But first I'm going to fill space with my blog. This first shot isn't anyhting incredible, looks like stuff you've already seen. But trust me, the TECH changes are totally rad. Coming much closer to actually pumping a game out with this bad boy.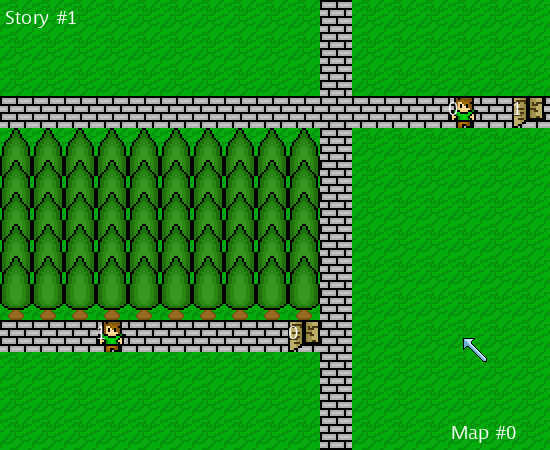 Wow. . . more trees!
The second frame is something quite new: your first glimpse of the battle screen. Now, as you can see, my amazing art skills are evident from the picture. I know, I know. . . why do I even waste time making games when my talent clearly lies with the canvas? Da Vinci would blush with shame if he were to behold my amazing skill with the brush and pen, the stroke and slide, the mouse and wheel. Yes, yes. . . incredible.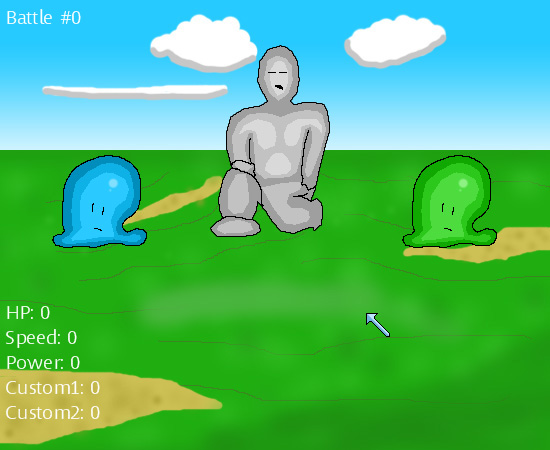 Try not to have a mental breakdown whilst trying to perceive the dimensionality of this perverse art form.
In the event that you're thinking "what the crap am I looking at?" (whcih you probably are), this is supposed to be a wide, open field populated by three dread (!) and fearsome (!) beasts. The outer enemies are SLIMES, in case you couldn't tell. As for the aberration of nature dominating the middle of the screen, near as I can tell he's some manner of golem or stonish kind of monster dude. He also bears a striking resemblance to eighteen lemons dried in the sun, beaten over rocks, painted gray, then lifelessly fused together with the incantation of some ancient wickedness. Not to mention his "face" (or whatever dread appendage that thing upon his head be) bears and expression that seems to say "Oh junk I'm self aware."
Poor guy.

Blog Title Changed Due to Error of Dan - July 13th, 2011
Have you read the new article?
I'm talking about Mega Man X and his first SNES debut, which totally rocked. Incidentally I bought Mega Man X the same type that I bought Final Fantasy Mystic Quest, which strangely enough has been a small insipration for the RPG engine I'm working on. Say what you like, I thought Mystic Quest was kind of cool. In a "I was a kid and didn't know better" type of way. And even at that, I
still
think it was a pretty cool game. If you disagree, sobeit. Just know that I'm right.
Not much else to report. Still running on steam most of the time. But that's just plain life. Share the site with your friends and get around to playing (or, ahem,
buying
) Triquaria.
In case you can't click the link at the top of the page due to an attack by cybernetic monkeys, why not use this one instead?
Convenient, eh?
Unto the sleep I go.

What Be Happening - July 13th, 2011
So, one of my secret little projects is coming quite close to being finished. Hoping to bring you some announcements about it here quite soon. 'Cause that'd be awesome.
At the moment, however, I'm moving full steam ahead on my new RPG project. And let me tell ya' - it gonna' be SWEET, ya'll. Seriously. Graphically and gameplay wise things are really coming together. Quite excited about getting my first game produced using my new Virtuex RPG Game Engine. Really a nifty little utensil if I do say so myself. Hoping to have the first playable demo up within the next week and a half, mayhaps sooner.
Have you read the new article?
I'm talking about Mega Man X and his first SNES debut, which totally rocked. Incidentally I bought Mega Man X the same type that I bought Final Fantasy Mystic Quest, which strangely enough has been a small insipration for the RPG engine I'm working on. Say what you like, I thought Mystic Quest was kind of cool. In a "I was a kid and didn't know better" type of way. And even at that, I
still
think it was a pretty cool game. If you disagree, sobeit. Just know that I'm right.
Not much else to report. Still running on steam most of the time. But that's just plain life. Share the site with your friends and get around to playing (or, ahem,
buying
) Triquaria.
In case you can't click the link at the top of the page due to an attack by cybernetic monkeys, why not use this one instead?
Convenient, eh?
Unto the sleep I go.

The Gathering Storms. . . - July 7th, 2011
I know, I know, you thought I'd given up on jenito.com. Well guest what?
I'M BACK TO TORMENT YOU WITH MY BLOGS! MUWHAHAHAHA! ! ! ! On a more serious note, my failure to write a blog or post articles recently is directly related to the amount of time I've been spending working on the next two games to be released here at www.jenito.com (READ: A lot of time). They should be VERY incredible projects! You can read about (and see screenshots from!) one of them
over in the articles section
. I'm very excited about that project in particular as the map editor I'm working on will let me spit out small little RPGs once every so often quite easily. I will, however, endeavor to maintain the higest standards possible in "spitting" those games out. In other words, I don't want to make crap if at all possible.
SO BEAT TIRED, PEOPLE. Really, I've been burning the candle at both ends. I'll let you know more about the other project as soon as I've got anything. By the way, have you been playing Triquaria? Or Dreadnought Elementary? Or MicroTale? Or ColorStones? Or It's Risin', It's Risin'? Please do! So many games here at jenito.com now, and it'd be great if you play them and share them with your friends. And trust me, the games are only getting better. These next two projects really are going to blow your mind. And Triquaria was stinkin' awesome too for a four week project (wow, that sounded really vain).
In other news, I finally found TUB BUTTER here in Japan last night. For me that's a major accomplishment. They have it in abundance, but I could never find it on account of the fact that Japanese tubs are brick shaped while American tubs are, generally, TUBBISHLY shaped. So that's why there was a problem. I'm also making my own sweet tea now. Saving a fortune from all those other drinks I had been buying (you know, health drinks like Fanta and Coke).
And that's that.

Pickin' Up the Pieces - July 1st, 2011
So, remember when I told you about indiedb.com a few days ago? You know, when I was all excited and all?
Well, it's still totally cool that the game is up on their site. And I'd give them high marks for a pretty fast approval and upload process for new games. But if any other developers are wondering, I don't find indiedb.com to be all that incredibly awesome in some other regards. In fact, if forced to give them a rating, I'd have to say it may be a little low. I think I may try to upload my next project a little earlier and do some more PR on the site, but let's just say I got a little discouraged when I updated my page on the site, but it didn't really update my statistics. In fact, it's like the more I wrote and updated, the farther I got pushed down. A bit stinky to say the least. Also, you may want a forewarning that a lot of members (maybe even moderators) are still in their teens.
BY THE WAY: That's never a good sign for an online community. Especially an "open" online community.
Cool site. I'd still recommend. Great for finding some super nifty games. But don't say I didn't warn you before you get all excited about putting your own work there.
In other news, going to get back to some serious coding tonight! Already have the next project planned out. This one will probably take a couple weeks, perhaps a bit longer. But, like Triquaria, it will be well worth the wait and fun to play.
Peace out!

The Quest for Fame - June 24th, 2011
Jenito.com's Triquaria is now on indiedb.com, an Indie (surprise and shock!) gaming site! You can use this wicked awesome button to link to the site now:
Or, of course, you can link directly to Triquaria's AWESOME page by clicking
here
!
So, I've got some awesome ideas for what's next related to games here on jenito.com.
By the way, have you played the online demo of Triquaria yet?
If you haven't, I extremely doubt your moral fiber. My intention is to begin work on a short RPG game called something like "The Lahan Mora." It's going to be a COMEDY RPG that's short, easy, and loaded crap full with idiotic humor. It should be a lot of fun to make and play. I've got some other projects lined up too, including a MAJOR overhaul of MicroTale. One that will make it as awesome as I originally intended for it to be.
There's a new article up, too.
This one is by yours truly, so why not give it a read and let me know what you think of my list. Alright chumps, gotta' run!

The Dance of JOY! - June 23rd, 2011
It's here it's here it's here it's here it's HERE! ! ! ! !
OK, I'm mildly excited, what can I say? After FOUR (count em', FOUR) weeks of intensive labor the latest game from Jenito is FINISHED. And it is AMAZING! ! ! ! Prepare, my friend, to have your mind BLOWN by the sheer INCREDIBLEISHISHNESS of THE SEA! Not to mention the trailer has awesome music.
Don't take my word for it when you can click here to see, read about, and PLAY Triquaria right now!
I would like to put up a strategy guide soon, but at the moment I'm basking in too much awesomeness to really think about that. It's DONE and it ROCKS! WAY beyond anything else on Jenito.com, and a sign of the future of what we'll be brining you here on the site!
Share it! Seriously! Put links on Facebook. Tell your friends. Call your grandma. Accost random strangers. LET PEOPLE KNOW THAT TRIQUARIA ROCKS! Also, make sure to put some comments on the Triquaria page.
That link again, in case yopu missed it the first time
. SO PUMPED RIGHT NOW!
So, what's next? Have no fear! I've already got FOUR projects planned and am probably going to start lining the first one up TONIGHT. Yeah, WHOA, I know. I will also be spending a lot of time trying to push Triquaria, as it really is an awesome game.
You can just play the online demo by clicking here
. And yes, you're going to have to read the instructions. But you can acess them ANY TIME during gameplay by pressing "I". Awesome, I know.
Signing off to go dance like a monkey.

It LIVES! ! ! ! - June 21st, 2011
Wow. . . haven't written for SEVERAL days. My apologies, but the Visa renewal process here in Japan isn't forgiving, and this was my weekend to get it done. YEEAARGHIBLE!
AND YET!. . . I did get a LOT done on Triquaria this weekend. So much, in fact, that the game SHOULD BE DONE TONIGHT! YEEEEHAAAWWW! ! ! ! ! I will post video, pictures, and of course, a playable demo ASAP. THE DEMO WILL NOT BE THE FULL VERSION. You shall have to procure that via FINANCIAL MEANS, i.e. money. But not to fear. It won't run above $2.00, which is insanely cheap for a game with 3 plus hours of gameplay. And it ain't shabby gameplay either. I've actually found myself rather hooked the last few days as I've been beta testing.
So, what's next? Well, I've got to take some time off from development. My brain's been frying this last week or so. I'll be doing a lot of PR work for Triquaria. Speaking of, the site still needs THOUSANDS more visitors. Literally. . . THOUSANDS. So please make sure to let your friends know! And do pick up a copy of Triquaria when I release, it's well worth the cost.
There's a new article up written by good ol' Movie Man over in the articles. Talkin' about that Legend of Zelda 25th Anniversary junk that be REAL, ya'll. So make sure to give it a read. Alos, use the commenting system. Because thus far only three people (one of them being me, one of them being Movie Man) have availed themselves to it. So, like, use it.
Eat cheese.

What Up - June 14th, 2011
The weekend came and was awesome. And I was not here.
THE GOOD NEWS: Triquaria, that famed "submarine game" I've been working on, is shaping up into something INCREDIBLE. Going to have HOURS of gameplay and TONS of cool stuff. Not your normal he-ho-ho-drum Jenito game. Very different.
THE BAD NEWS: It's not done! No new articles yet! I'm pulling my hair out with all this code!
In other news, I had a bizarre dream this weekend. I was Solid Snake and I was sneaking into this MAJOR BIG (that's a professional term) building. That's about when Captian Jean-Luc Picard showed up, started talkin' trash about Dr. wily (you know, from Mega Man), and then showed me where he was. But Dr. Wily was actually some jacked-up pshychopathic murderin' freak who scared the WILYS (heh heh) out of me before turning into Lord Voldemort from Harry Potter. After his short little end of the world speech I decided to put an end to him by impaling him with a sharp stick I procured. But look at that crap, he just pulled it out and came at me again. After impaling, beheading, burning, and otherwise injuring him MULTIPLE times I came to the conclusion that I needed to sneak back out. Fortunately, Captain Picard came with me and was going to help me kill Voldemort when. . .
The dream ended. WAIT, OH, LOOKIT THAT JUNK! PICTURES FROM TRIQUARIA!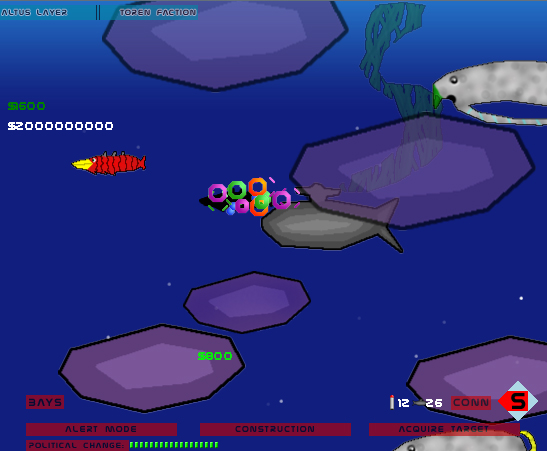 Now you know why I've been so busy. Check out them fish and 'splosions!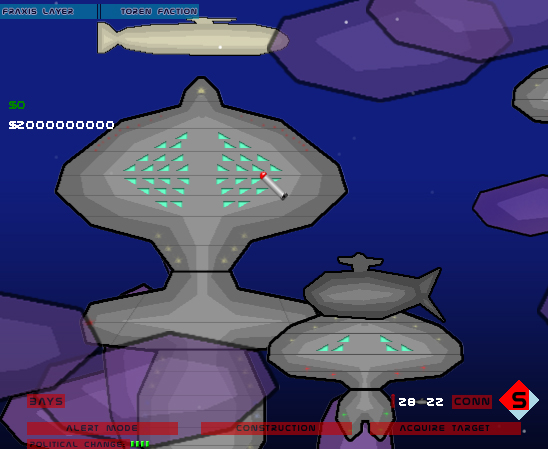 Submarine warfare will ensue!

Man Meets Exhaustion - June 10th, 2011
I've been scarce the last few days, and I don't even think I care anymore. LITERALLY fell asleep at the keyboard last night as I was coding. I've been pulling some extreme shifts in order to bring you the latest and greatest game, which I've currently titled
Triquaria
. Does it sound awesome or like crap? I'll put up a page soon and you can let me know in the comments there.
Wrapping up E3, which has been an amazing week, with an article listing some of the final games covered.
That includes The Elder Scrolls V: Skyrim, which looks like its basically going to be the best game ever. Next to Metal Gear Solid 3DS, which is so awesome it can even be called a game anymore. It's more like art.
So, what have I been so busy adding to Triquaria? A host of things, really. You play as captain of a submarine in a sci-fi neo-apocalyptic setting under the sea where mankinds genetic experiments have breeded a host of really nasty huge (and dangerous) fish. But that ain't bad enough - three factions under the sea war for dominance, each one constantly shifting through one of three ideologies: republic, idyllic, and barbaric. Your job is. . . well, pretty much what you want. You can get a mining permit and make money by mining rocks and the like. Get a mercenary permit to shoot down enemy subs. Get a transport permit and you're all set to carry people around the faction you align yourself with. Take your time, acquire a visa, and then you'll be set to travel between the three factions picking up any work you can. Eventually you'll get enough cash to build your own base and live as an outcast "pirate." That may include a bit of rambunctious sea battling, but mostly it means you can run various benevolence missions that give you goodies and increase your level of fame. Your goal: to save the war-torn citizens of this undersea realm.
Oh, and then there's the fish. The
stinking huge
fish. You'll be tangling with them at every turn as you plunge deeper into the sea to research valuable technologies and mine priceless resources. And when I say these fish get huge, I'm not joking. These bad boys are
huge
.
So, you can see why I've been busy. Wanted to release a trailer this week, but after the falling asleep at the keyboard experience last night it just didn't happen. I will post anything I have as soon as I have it :)

Back in Business - June 7th, 2011
Well, finally back after a grueling weekend and a LOT of coding. The "Submarine Game" (I've yet to think of a truly better name) is still in development. Going to be VERY cool when I get it done. With this being E3 week and all, I might make an announcement or release a demo. . .
Speaking of E3,
my faithful assistant Movie Man is doing an unreal job of keeping us up to date with the latest E3 news.
So read the article and COMMENT (using that amazing, mind-bending commenting system I added this weekend) to say GOOD THINGS. And make sure to tell the writer how much we ALL appreciate him keeping us up to date with the latest and greatest in the world of gaming.
I've added a mining and tracking feature to the submarine game. This game, by the way, is MUCH larger and MUCH better than anything else currently on the site. So I can actually encourage you to get your hopes up. Because it will be good. Should have some pretty deep gameplay going by the end of this week.
Well, I'm all tuckered out, kiddos. It is, after all, MIDNIGHT here in Japan. So peace out, ya'll!

Insanity - June 3rd, 2011
I HAVE INSTALLED A COMMENTING SYSTEM ON MOST OF THE ARTICLES. And it was brought to you at GREAT PAIN and GREAT EXPENSE, so ENJOY IT!
Why don't you go to the article archive, pick on, and comment on it?
That's right, be a good friendly person now and go do it.
Let me just put it this way - I've never been fond of web coding. Even less of database management like MySQL and the all such like. So this was a feat of great proportions for me. I mean, EPICLY STIKING HUGE PROPORTIONS. In other news the submarine game is coming along incredibly. You can fire torpedos and fish and watch their charred reamins go barreling through the water whilst explosions blast all over the screen. That's what I call TIGHT.
Will be bringing more updates and articles soon, but don't forget that the weekend is right around the corner. So I might be a little absent the next few days.

The CODE Monkey! - June 2nd, 2011
So it turns out the only thing I misspelled yesterday was blog, which I in fact spelled
blodg
, a type of hybrid between "blog" and "building."
LOTS of new articles SHOULD be on the way. IF they in fact are (munch on that). Also, the new game, currently named "Subber," is in the process of being made LEGEND. I'm thinking about renaming the game, as the name no longer seems to reflect the sheer awesomeness of the awesomeness that is the awesomeness of the game. As of right now I've got a huge randomly generated map, three incredible factions, and a rockin' sub that can shoot torpedos like nobody's business.
As far as the site itself goes, I REALLY need to add commenting abilities. It's really not so hard, but the motivation factor for me is unexplicably low right now. Probably because I'm so obsessed with this new game. So there's the crap.
PEACE OUT!

A Bad Thing - June 1st, 2011
I'm going to do a very bad thing. I'm going to NOT proofread this blodg. MUWAH HA HA HA HA HA!
Speaking of, apparently frolicy is a word except it's spelled
frolicky
. So I comitted the grammar/vocabulary/plumbing crime of the century when I claimed to have made a word, but in fact I hadn't. Oopsies.
There's a rockin' article about the (relatively) new Thor movie up on the site
. It is written by a GUEST ARTICLE WRITER DUDE (blow yo' MINDS). So check that out and eat your Wheaties.
I'm going to bed ya'll. TMI.

Gonna' Blow Yo' MIND! - May 31st, 2011
I have been coding
furiously
tonight on the new submarine game. And let me tell you, it's going to BLOW YOUR MIND TO TEN THOUSAND BITS (or more) (TM)
So what up with this new game of awesomeness? It'll be the first game I've put up on the site with a large, scrollable map. It's also going to feature some interactive story elements and "characters" (more like people groups, actually). HOURS of gameplay, LOADS of extra goodies, TONS of combat, resource gathering, and exploration. The great thing is that you can play pretty much however you want. Don't want to fight? Don't much have to. Don't want to gather resources? Just pirate and loot yer' filthy black heart out. Want to free the slaves from undersea opression? Go for it. Want to take of them some for your own opressive base? Hardy har and yo-be-ho (I don't know what that means, actually), ye can do it! Going to be SUPER cool, and I want it to be an ongoing project here on the site. Should have a playable version up in the next couple weeks. There will be a downloadable version for (super cheap) sale. It will have more content and allow you to save your man (and trust me, you're going to want to save your data in this game).
In other news I'm cookin' up some new articles and already busy planning the next game, which will revolve around a natural disaster known as "The Storm" and a freaky secret society called the "Lahan Mara" and tons of super stupid silly RPG gameplay. Going to be the first in a series of "Short RPGs" I want to make. Fun, fast, and frolicy (lookz momz, I'z just madez a new wordz, lolz lolz!).
Be peaceable ye citizens of this fair planet!

Weekend Time! - May 28th, 2011
Yes, the weekend is at last upon us. As such that means I may be scarce for the next day or so, so I'm just lettin' you know ahead of time.
THE STUFF: There's a new Classics of Gaming Article up.
Why don't you go access it over in the gaming articles sections of the site?
There's a bunch of others too, so you should read them while you're at it (if you haven't already). ALSO, a new (AND AWESOME) game is on the way. Trust me, WAY better than anything else thus far, even MicroTale. In fact, I'm downright excited about playing this one. It is, of course, underwater based (that be bein' a technical term, yar) and going to be filled with all sorts of cool features. The map is HUGE and the navigation and camera system are super nifty cool.
Getting ready to bite into a big huge supreme pizza, so I think I'll be goin' now. Don't forget to check back often, tell your friends, and shoot me an e-mail some time. BE COOL, PEOPLE OF EARTH!

SUBstitute Blog - May 26th, 2011
Finally started coding my new Submarine game today! You're taking to the high (or is that low?) seas in this new title, appropriately called "Subber." Got basic art and interface complete tonight. It's gonna' be mega-nifty, so be checkin' back for updates.
The site has seen a LOT of new traffic this month, but still not enough to be considered more than an atom in the wide internet world. So tell your friends about me and make them read my blog. Cuz' this blog be awesome!
By the way, I'm lovin' makin' games and all, but why not let me know what you think? You can search Jenito Games on Facebook, like the page, and comment there. Or you can e-mail me directly at
support@jenito.com
. PLEASE DO! You don't know (or maybe you do) how encouraging seeing your e-mail inbox fill up with REAL mail is. I mean, seriously. I'd love to hear from you. Whether I know you personally or not. In fact, I think it'd be more awesome to hear from somebody that I DON'T know personally. Because that means I'm becoming rich and famous :D
Bed time here in Japan. I'll be dreamin' 'bout my subs.

Low Fuel - May 25th, 2011
Not in the literal sense, but definetely in the metaphorical. I'm running on my last ounces of energy here, up WAY too late at night. The good news?
Just posted the first MicroTale demo online!
Need to watch the tutorial video before you play. It's not on YouTube yet thanks to YouTube's stellar sense of "short" upload time. Kind of like Snake's stellar use of subject-verb agreement when he said "The truck have started to move" in Metal Gear 1.
That's all you be gettin' as blogs go today. Because I'm going to bed.

A Pirate's Life For Me - May 23rd, 2011
Well, I've been out of pocket the last few days. Incidentally I celebrate a seldom-heard-of-cultural-custom known as a "weekend." It's a time where you don't work and play and do stuff. Yes, I do consider Jenito "work." Even if it's realy cool work.
Speaking of play, you can play NEVERMIND I THINK I'LL TALK ABOUT PIRATES OF THE CARIBBEAN 4! Yes, that was a non-sequitur and I'm not ashamed to say it. I don't know what the new Pirates movie has to do with Jenito other than the fact that, in my humble dogmatic opinion, it was the absolute BEST installment next to the very first movie in the franchise. In fact, it may even rival the first. The script was whitty, the action fierce, and Penelope Cruz is simply a far better actress than, well, just about actress in existence. Again, in my humble dogmatic opinion. But it didn't get into any sort of sexist "who's better, the female pirate or the male pirate?" kind of mumbo jumbo. Which rocked.
So, all that said to say this: it's worth a gander. You should definetely check the movie out, as I'd rate it as "very cool."
I played It's Risin', It's RISIN'! tonight and realized it's really cool even if I did make it.
So you should play it too. Otherwise continuing to work on MicroTale. Apologize for not getting a demo up this weekend, but again - time off. The code monkey must rest every now and then. And eat tropical fruits, of course. Because they are yummy.
By the way, watching Pirates of the Caribbean 4 with Japanese subtitles is infinetely more awesome than without. So, unless you live in Japan, basically you can never experience the awesomeness that I do. Unless of course the watching without of the subtitles becomes metaphorically the watching with by watching the watching without while watching within the watching of the without.
Now you know why I'm NOT a script writer.

Ridin' On Da' Glory. . . - May 20th 2011
Yesterday was THE day for Jenito, I suppose. I mean, I basically posted everything in the world that I possibly could.
It's Risin', It's RISIN'!
If you haven't played it, you should.
If you have not read the article about the new monthly contest Jenito would like to host
you STINK.
Finsihed up some loose ends on MicroTale tonight that will allow me get the game posted soon. Perhaps even Saturday morning. In other news I'm continuing the design stage for some new games. One is really shaping up well and should be a lot of fun.
Don't forget to shoot me an e-mail at
support@jenito.com
if you're interested in the monthly contest. Why, if you just have a comment and would like to let me know that would be awesome too.
Not much else to say. Beware whilst riding a bicycle in Japan. What can I say? I speak from experience (like, colliding and tumbling in the air experience).

Too Much To Tell - May 19th 2011
As the title says. . . seriously, TOO MUCH TO TELL! (Trademark) :D
It's Risin', It's RISIN'! is complete and online!
Totally free to play, and I'm proud to say it's my first online game with (short and incredibly repetetive) background music.
Just finished writing a new article about how games are made and the economy behind that.
Bascially, though, it's a plug
for the new monthly contest Jenito would like to host!
You play games, you beat games, you win cool stuff. Seriously. Very doable with a solid customer base. And it'll be loads of fun.
MicroTale is coming very soon.
You've seen the latest trailer, right?
The game will be very cool!
I've already started planning some new games, one which involves a submarine and the other which involves dwarves. They'll be a lot of fun and I'm really looking forward to working on them.
The following is an unashamed plug for Jenito: PLEASE send me an e-mail at
support@jenito.com
and let me know that you're interested in the monthly gaming contest! $1.25 each month to get a brand new game, and if you're the first to beat it you win awesome prizes like a Nintendo 3DS or $150 gift card. Now who CAN'T get into that? C'mon, ya'll!
I'm still working on adding the ability to post comments on articles here on the site, and I need to add a Facebook like button. In the meantime, why don't you search for Jenito Games on Facebook and leave comments there?
YEEEEEHAAAAWWW! ! ! ! ! ! !

Spoilers Ahoy! - May 18th 2011
Got a few SPOILERS (not the car variety) to share with you.
SPOILER #1: It's Risin', It's RISIN'!, the new game I've been working on, is just about completed. As in, probably will post it Thursday morning almost completed. Going to be a very fun game, and incredibly novel. Here's the deal. The storm of the CENTURY (evidently) has arrived at Granny's house. With no one else to turn to she has called upon you to aid her in moving her stuff (trust me, she's got a load) out of her house before the water level rises and destroys any of her valuables. Of course, one time isn't enough. When you beat a level the cargo reappears and the water is reset - but it rises faster this time. The title comes from the fact that, when the water begins to rise, Granny blazes across the screen proclaiming "It's Risin', It's RISIN'!"
SPOILER #2: A VERY-MUCH-DEMO-VERSION of MicroTale will be released in the next couple of days.
Have you seen the MicroTale page?
This version WON'T include a fighting system of any sort. Just building a population and kind of sandboxing it. But it will be very cool nonetheless.
SPOILER #3: Jenito is going to make an announcement very soon about a special type of contest we want to host. Stay tuned, as we'll be needing your help if it is to come to pass.
SPOILER #4: Already have two other games in the planning stages, and they both should be extremely cool.
That's it, that's all, and I hope you enjoyed. Now, got eat yo'self some CHICKEN!

What's Happening - May 17th 2011
Two blogs IN ONE DAY. Now that's what I call PROGRESS!
Thought I'd pop in and let you know of the latest developments.
Surely you have seen the latest MicroTale video.
I'm confident you've played Dreadnought Elementary.
If you haven't played ColorStones you're simply morally remiss.
And the great news is that a new game, entitled "It's Risin', It'S RISIN'!" is very much on the way. Built the basic framework last night (that's Japan time, mind you) and should have the game finished some time Thursday night. I'll try to get it on the site at the same time.
MicroTale is, of course, on the way. Need to iron a few things out before posting the first playable demo online. It's going to be quite a sweet little game, I beleive, and I'm very much looking forward to really playing it myself.
That's about all for now. Don't forget to tell ALL your friends about www.jenito.com! We've had our largest month ever in visits this month, but we still (literally) need THOUSANDS of new visitors in order to really get going. Come on. Online games. What more can anyone ask for?
And that's that.

Man Of Microishness - May 17th 2011
FINALLY got new video up from MicroTale! Very much worth the wait. Showing off new features including Morality, Trash, and the Embassy. Should have a playable demo up later this week. The next major addition will be a battle system that allows you to fight with a rivaling nation of evil, filth, and the un-American way.
Why don't you check the new MicroTale Teaser and page out here?
Working on another small game called "It's Risin', It's RISIN'!" which involves rain, a house, a lot of luggage, and a very pushy grandma. Hoping to have it done within the next couple days, even tonight if all goes smoothly.
Going to be making a really awesome announcement just a little later on, maybe even later today. Well, it's awesome if lots of people think its awesome and send me an e-mail. Let's just say it involves. . .
Naw, that'd spoil it. Also going to try and start pushing the site with some indie game reviewers sometime very soon. Hopefully later this week. Speaking of, if you know anyone or think of anyhting that may aid in the TOTALLY FREE marketing process, why not shoot me (NO, DON'T DO THAT! PUT THAT GUN AWAY!) an e-mail at daniel (PUT YO' AT SIGN HERE) jenito.com. That'd be awesome!
And so the epic continues. . .

BACK FOR PAIN! - May 16th 2011
I don't really know exactly what that title means, but it may be appropriate in its own twisted way. I didn't geat nearly as much done this weekend as I wanted to. Disappointing, isn't it? You know, not getting stuff done that you want to get done. I could, of course, pull a heroic stroke of self-sacrifice and stay up all night to complete a vast array of new projects for Jenito. Then drag into work looking like a half-meat half-lettuce zombie in the morning. But I'm not going to, because it's a bad idea.
A NEW ARTICLE (DUN DUN!) is up in the
Game Articles
section of the site. So you should read that. Because it is awesome. I say so.
MicroTale is still coming along and I REALLY need to get some video from it up on the website. I'm also devloping ANOTHER new game that should be live this week! BUT WAIT, there's MORE! Going to be making a (in my opinion) totally rad announcement sometime soon. Hopefully this week.
Still need more visitors to the site. So, please, like, totally whoa, invite people to check it out. Yeah man, stellar. Going to try to get a Facebook "like" button on the site and may even get into that whole Twitter revolution. Even though I, personally, don't really get Twitter. I mean, are you a twit for using Twitter? (ba-da-da-dum. . . CHA!)
Be excellent to each other.

The Plans - May 13th 2011
I am stricken of an headache at the moment, so don't expect any great literature. Won't be posting an article today, which STINKS. But should have some more very soon. Want to put up video from Dreadnought Elementary and MicroTale. Speaking of, MicroTale is really coming along. Hope to have a game demo up this weekend.
In other news, awesomeness is really quite awesome.
That's all I've got to say about that.

Moving Onward - May 12th 2011
Things are movin' here at jenito.com! Just finished another article. This one's a little different, discussing the impact Facebook has had on the gaming scene just a little bit.
Check it out here.
Have you played
Dreadnought Elementary
yet? Pretty cool little shooter if I do say so myself. Would like to put together a video for it here in the relatively nigh future.
MicroTale is coming along nicely. More video will be up soon, and maybe even a playable demo this weekend. YO! Otherwise things are stayin' cool here at the site. Had some REVELATIONS (sounds like a game title) tonight and excited about some new projects in the workings. I'll keep you posted.
Go play some games!

Moving Onward - May 12th 2011
I couldn't think of any more brilliant a title. So there you have it.
HAVE YOU SEEN THE NEW game AT
OOOH CLICKY HERE TO GO STRAIGHT TO mindlessly aweSOME enEmY bAShING
?!?! And yes, that last sentence was crafted to be odd. Because I roll like that. Uhn. In other news, still getting stoked about
MICROTALE
. I'll be developing on it more in the next few days, and would really like to post a demo this weekend. It's gonna be sweet!
I would really love to get some feedback going, too. Still need to look into allowing users to add comments to the site. I shall indeed therefore do my best to put mine hand unto this therefore noble task. Yo. In the meantime, why not shoot me an e-mail at daniel PUT YO' AT SIGN HERE jenito.com.
Now, go play Dreadnought Elementary. And beware those sadistic zombie head things!

YEEEHAAAWWW! ! ! ! - May 11th 2011
It's 2:44 AM in Japan and I have to work tomorrow. So this will be short.
THERE'S A NEW GAME UP! It's called Dreadnought Elementary. IT IS NOT A PUZZLE GAME! It's a good old fashioned shooter. You're blasting your way through lots os stinky enemies like mutant pencils and evil homework. Read the instructions before you play. No real goal other than seeing how many enemies you can defeat before you die. And trust me. . . you WILL die!
Click here to visit the rules page!
Oh, and this is totally free. No for sale version. Not yet anyway. . . :D

Let's Bite and Taste It! - May 10th 2011
Read a food wrapper here in Japan earlier today. It had English on it, which contained this inspiring tome: "This egg sandwich is yummy. Let's bite and taste it!"
Disturbing, y'know? Why would "we" want to bite and taste it? Are we all gonna' share this little tiny sandwich? And how? Or is this some sort of wink-wink double entendre for a formless abomination that my imagination could not dare to conceive? I know not, and care not to know. . .
So yo, like I totally put up a video yesterday morning (actually extremely LATE last night here in Japan). And, like, whoa, it's like, whoa man, totally rad, uh-huh yeah, whoa.
Clicky here to watch
. It's LIVE FOOTAGE from the new project I'm working on, MicroTale. Gonna' whip some serious tail when it's done, so very pumped about that. I'll be coding on that more tonight, and may even get around to making another game that I thought up today while teaching the little rambunctious tykes of Yokohama. That's right, a ONE NIGHT PRODUCTION game. Featuring you shooting at homework, amongst other things. What can I say, I teach.
MicroTale is coming. . . Let's bite and taste it!

Cave Man Need Food - May 9th 2011
Food. It is something we all need, all share in common. I need food. You need food. We all need food.
Speaking of food, I'm really hungry right now, so I'm going to go grab some here in a few minutes I think. Food choices are really different when you live in Japan. But there's this wicked nifty resturant right down from me, so I'm good. Of course, you probably don't really care about any of this, so let me get more the point.
THE NEW GAME FROM JENITO IS GONNA' BE TOTALLY AWESOME! Did a lot of coding today and man. . . let me tell you. This game is going to kick food-butt. You'll be doing some farming in the game, but it's totally unlike any other farm game you've experienced. Very fun, very cute, and filled with awesome features that'll leave you well salted and savory. Hoping to put some video up a little later this morning, but no promises just yet.
Jenito.com. . . FOOD FOR GAMERS! ! ! ! YAR! ! ! ! !

Rollin' Out - May 8th 2011
It be Mother's Day, ya'll. That's the day we celebrate our mothers, in case you hadn't caught the trend. Anyways, I'm glad my mom's totally wicked awesome. Like, rad man.
Well. . . after that brief and most triumphant return to Bill and Ted's Excellent Adventure style dialogue I think it's time to fire up the engines of excitement (!) by talking briefly about my next project. Working on a game that has a little something to do with
farming/fighting/building/talking/romancing/grooving/conquering
. In other words, it's pretty much going to be epic. And no, it is in no way a Farm_______ (fill in the blank, as there are multiple) clone. Not to mention it has an amazing weather system! Joy!
In other news, trying to keep the site busy with plenty of new material. Starting writing some new gaming related articles and will try to keep posting them regularly. SPEAKING OF. If you're obsessed with writing (like me) and something semi-game related (like me) why not shoot an e-mail to support AT SIGN jenito.com (that's my awesome spam filtering filter thing) and let me know. Would love to post game articles, movie articles, and articles about blenders. You know, the type you can make really yummy smoothies with. 'Cuz I'm all about the blenders, baby.
PEACE.
Copyright 2011, Jenito and Daniel Hall
Jenito is a self-proprietorship owned and operated by Daniel Hall
So there.